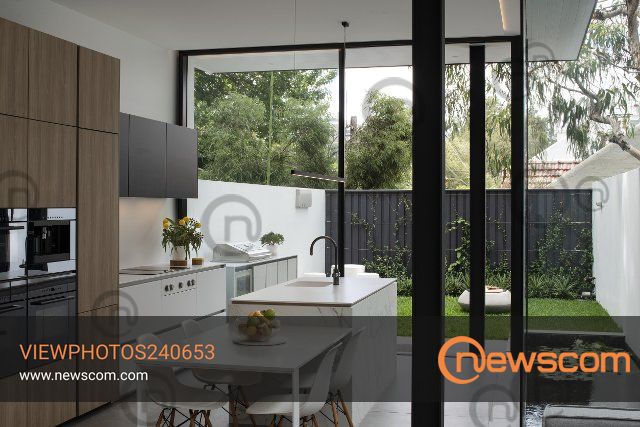 Location:
Sydney, New South Wales, Australia
Post Date:
Nov 15, 2021 9:45 AM
TAG ID:
viewphotos240653 (RM)
Credit:
View Pictures/Richard Glover/VIEW/Newscom
Format:
5017 x 3344 Color JPEG
DocID:
RGLO-1216-0008
Photographer:
View Pictures
Special:
No Restriction
Keywords:
, Jenson House, architecture, Private Home, Oceania, Australia, New South Wales, Sydney, 2019, 21st Century, Chris Elliott Architects, Nobody, Full Frame, room view, day, interior, renovation, addition, Bondi Junction, semi-detached, residence, residential, suburban, Maroubra, space savvy, inventive, contemporary, view through, garden view, kitcchen, kitchen island, modern, kitchenette, glazing, transparent, dining, pond, inside-outside, small, courtyard garden
Release Status:
No Model Release, No Property Release
Caption:
View from interior across dining and kitchen through glazing to rear courtyard garden. Jenson House, Sydney, Australia. Architect: Chris Elliott Architects, 2019.