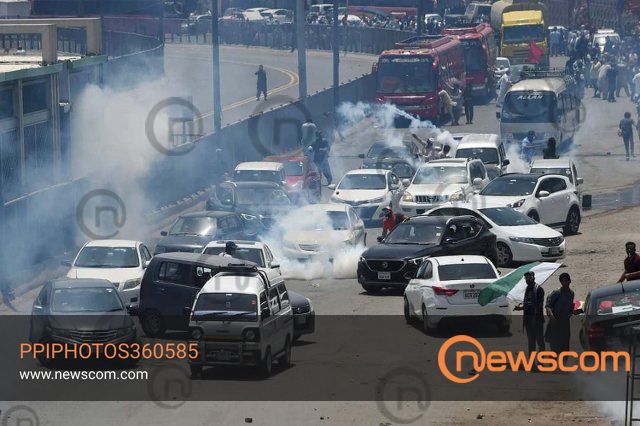 Post Date:
May 25, 2022 12:18 PM
TAG ID:
ppiphotos360585 (RM)
Credit:
SA-ZM-250522 / Pakistan Press International Photo/Newscom
Format:
3000 x 1998 Color JPEG
Photographer:
SA-ZM-250522
Release Status:
No Model Release, No Property Release
Caption:
LAHORE, PAKISTAN, MAY 25: Police staffs restore baton charge, fire tear gas and arrest protesters after imposed Section 144 across the province during the protest rally (Azadi Long March) of Tehreek-e-Insaf (PTI) against federal government to dissolve assemblies and announces election dates, in Lahore on Wednesday, May 25, 2022. Administration no one would be allowed to cross its district boundary and containers and barricades were installed on all major roads including link roads leading toward motorways and GT Road. According sources, 150 freight shipping containers have been placed on road sides to block the roads in Rawalpindi district while 4,000 police from Multan, Lahore, Farooqabad and Sargodha have been called to assist Rawalpindi and Attock police. (Babar Shah/PPI Images).